1/27/23 – USA Forums coming in February 2023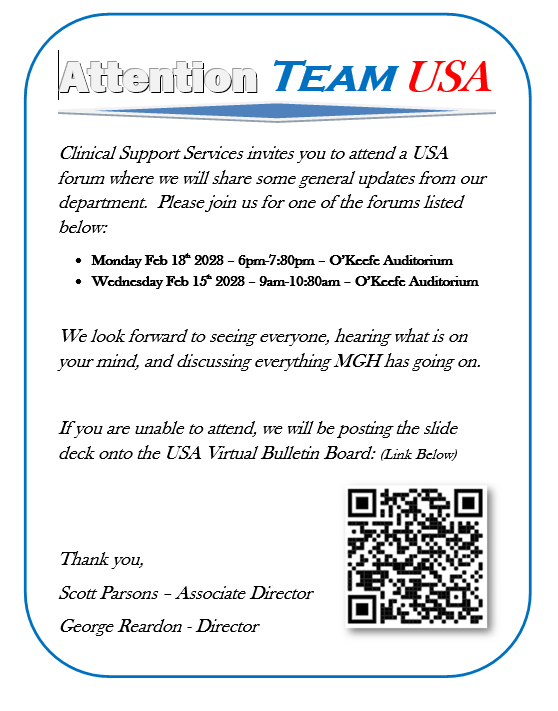 1/25/22 – Employee of the Month Winners
With some delays due to leaves, we were able to finally get up to date with our Employee of the Month recipients. See below for our winners of September, November, and most recently, January. Congratulations to Maria Da Silva, Abdelghani Gouiti, and Ilham Hinnach!!!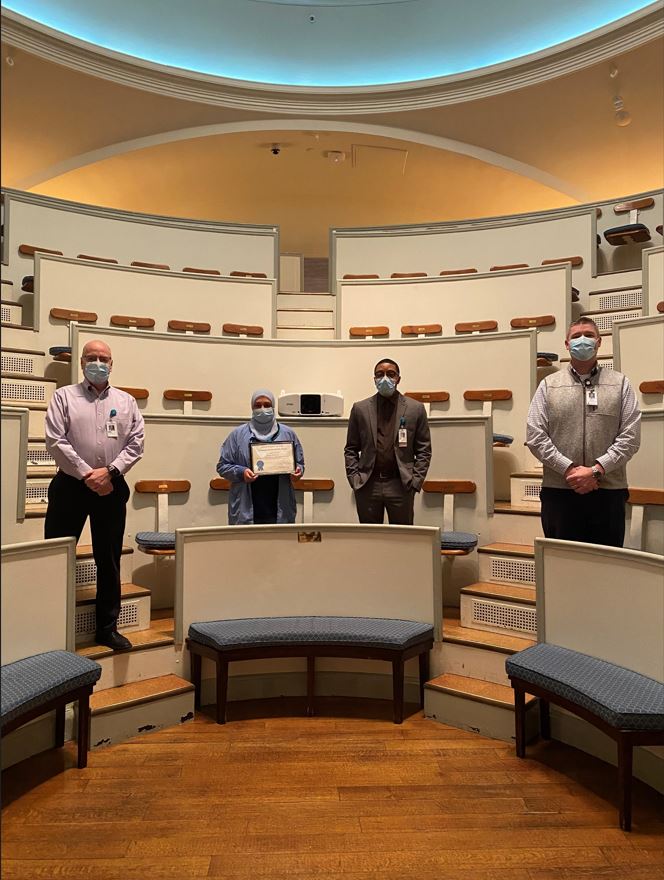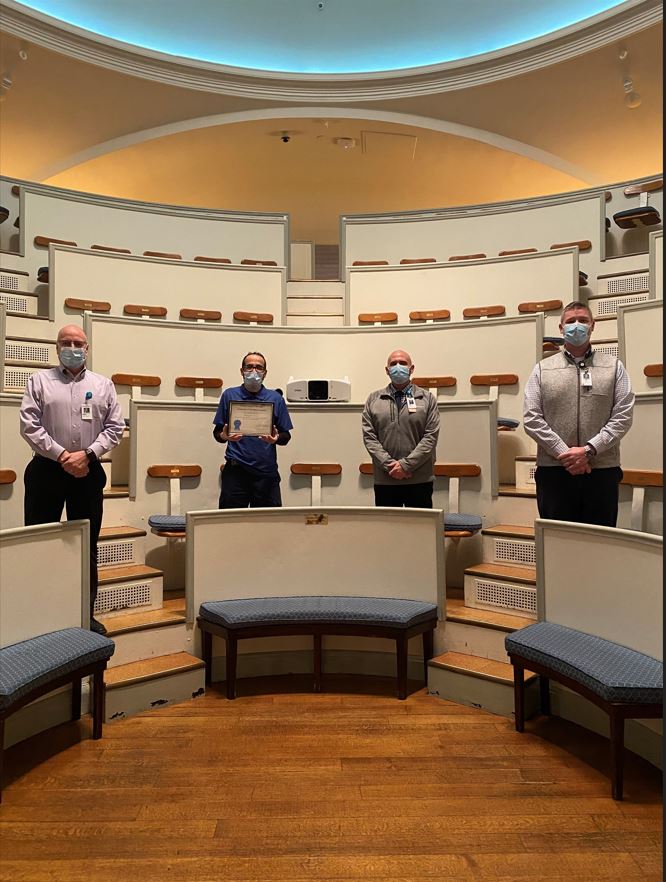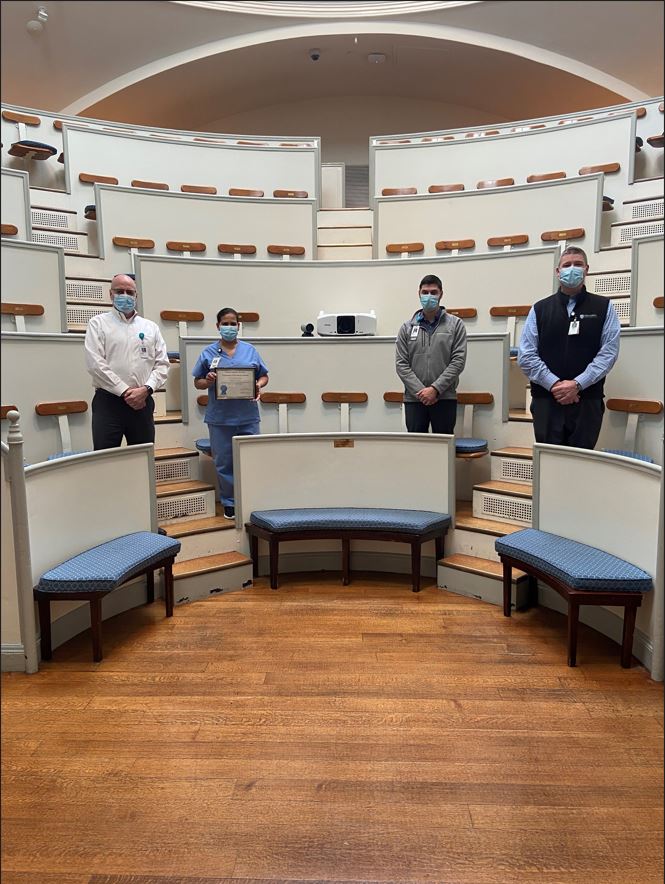 12/21/22 – Employee of the Month and USA Raffle winner's update: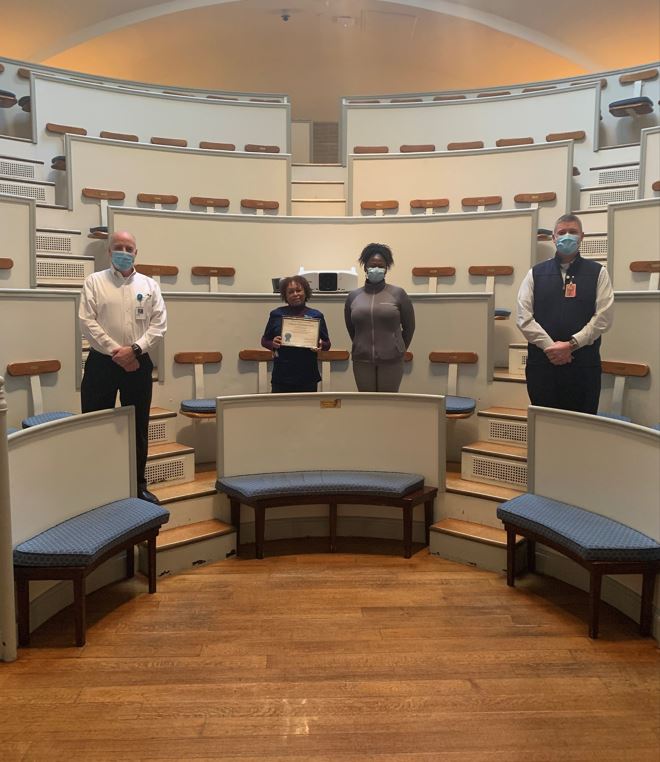 Isabel Fernandes was our winner for December's USA Employee of the Month. While presenting her with her award, we also asked her to pick our raffle winner for the 3rd quarter of this year…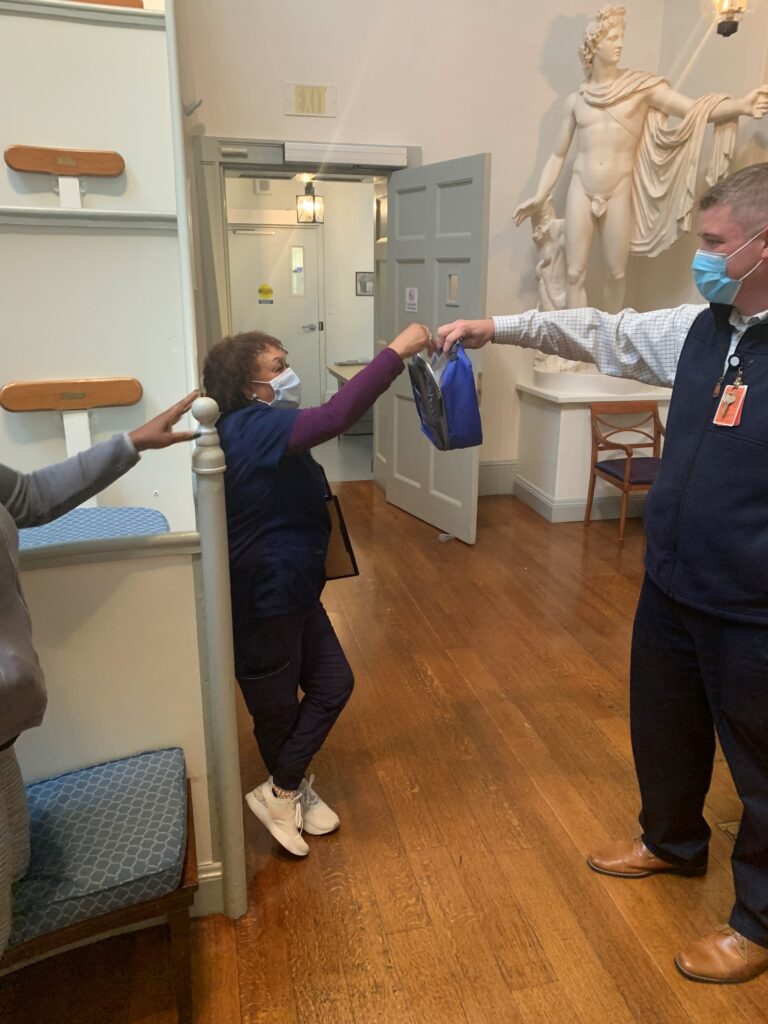 And the winner was…….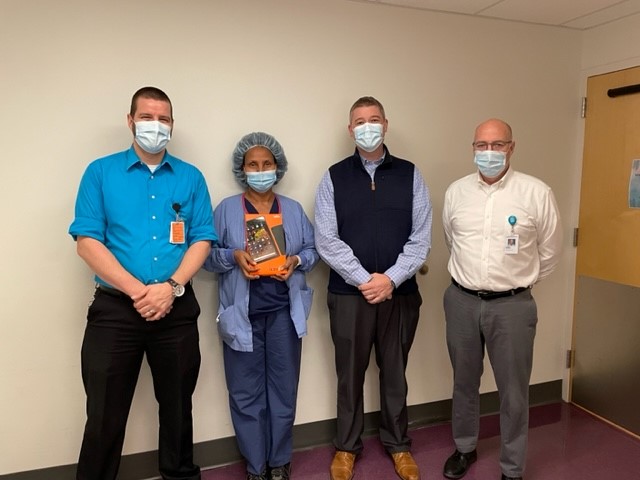 Akberet Bahabla from Ellison 10! Akberet had the choice between an Amazon Fire 10″ tablet or a 4 course dinner for two at Davio's Steakhouse. Akberet went with the tablet this time, CONGRATS!!!
In addition to Akberet, we were also able to present Carlos from Lunder with his raffle prize that we were not able to from a prior drawing. Congrats to Carlos!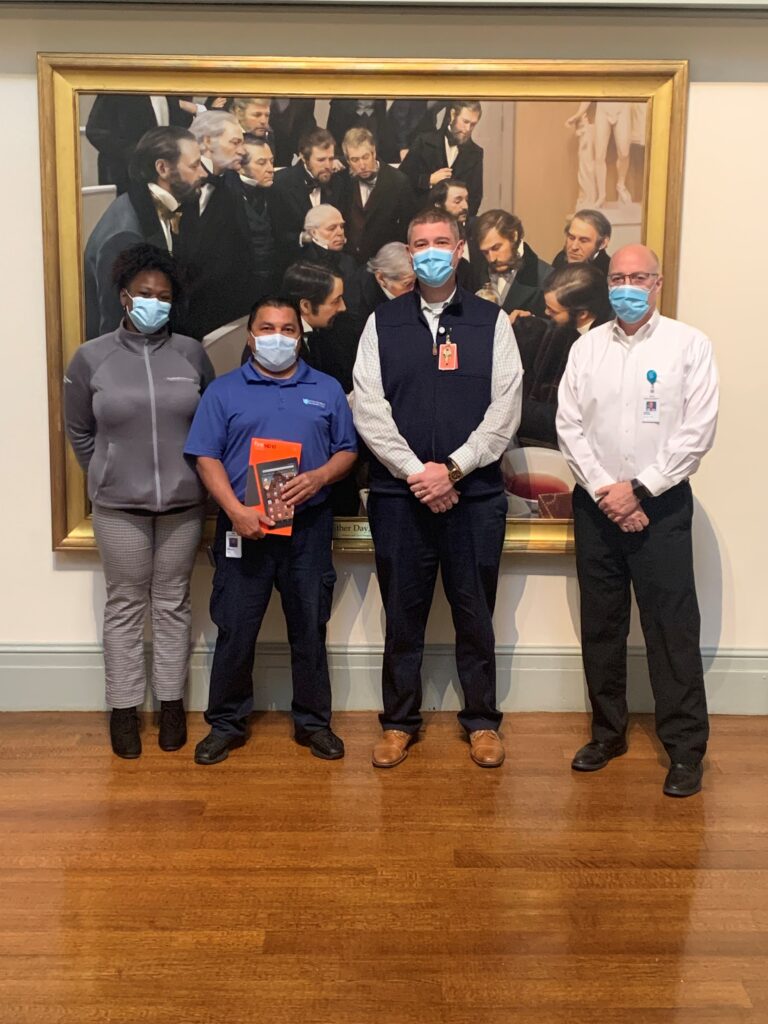 12/19/22 – Reminder: "Office Hours" with Scott Parsons is today
Location is Blake 8-851 from 2pm-3:30pm. I have no agenda, just feel free to come by if you have any questions you want to ask, issue you want to bring up, feedback to provide, etc.
12/14/22 – A Message from Dr. Joe Betancourt:
12/13/22- Open "Office Hours" with Scott Parsons scheduled for Monday 12/19 on Blake 8
Similar to a few months ago, I will be hosting an open "Office Hours" on Monday, 12/19/22, from 2pm-3:30pm in Blake 8-851. Like before, this is 100% optional to attend, I do not have any agenda to present, and will simply be there to listen/answer any questions you all may have. I will be there for any USA who wants to come, ask questions, bring up topics of concern, provide suggestions for improvement, etc. This session is open to any and all USAs who want to come meet and talk.
Thank you,
Scott Parsons
12/8/22 – Slavin Fund Update for it's 1st Quarter (Oct-Dec)
Good afternoon all,
As of today, the committee has approved enough submissions to use the full amount of money allocated for the first quarter (Oct-Dec) of this fund. So far, this fund has been able to assist 27 USAs with assistance for medical bills, funeral expenses, housing emergencies, as well as school supplies for kids. We cannot thank the donor enough for these funds that have divided up amongst the support departments.
With the funding, we have now maxed out one category from our original document, which is "School Supplies." With that allocation maxed out, we will no longer be able to accept requests for that category moving forward, but any submissions we received up to now will be forwarded to January. With those funds being used, the committee has added one additional category to help, which will be for "Automotive Emergencies" to help pay for unexpected automotive repairs on their vehicle.
Please see below for updated criteria and form
Childcare emergencies

Daycare closes and you need alternative arrangements
Person who watches your child no longer can and you must make new arrangements
Child now requires special needs care

School Supplies

School requires you to purchase laptop/tablet
Cost of books or software purchases by requirement of school
Cost to replace stolen items like a laptop or tablet

Care of an Elderly Parent

Home nursing care
Nursing Home costs
Adult day care facility costs

Housing Emergencies

Emergent housing costs due to:
Fire
Eviction
Flood
Termite/Insect Damage

Funeral Expenses

Funeral expenses for a family member paid by the employee

Medical Emergencies

Emergency room care
Medical bills paid by staff member for their immediate family
RX costs for emergency care

Automotive Emergencies

Costs associated with car repair emergencies
12/7/22 – Cell Phones and Belongings in the Sheets:
12/1/22 – Next Round of USA to PCA Program Being Offered
11/18/22 – Computer Classes for Winter Registration is Open: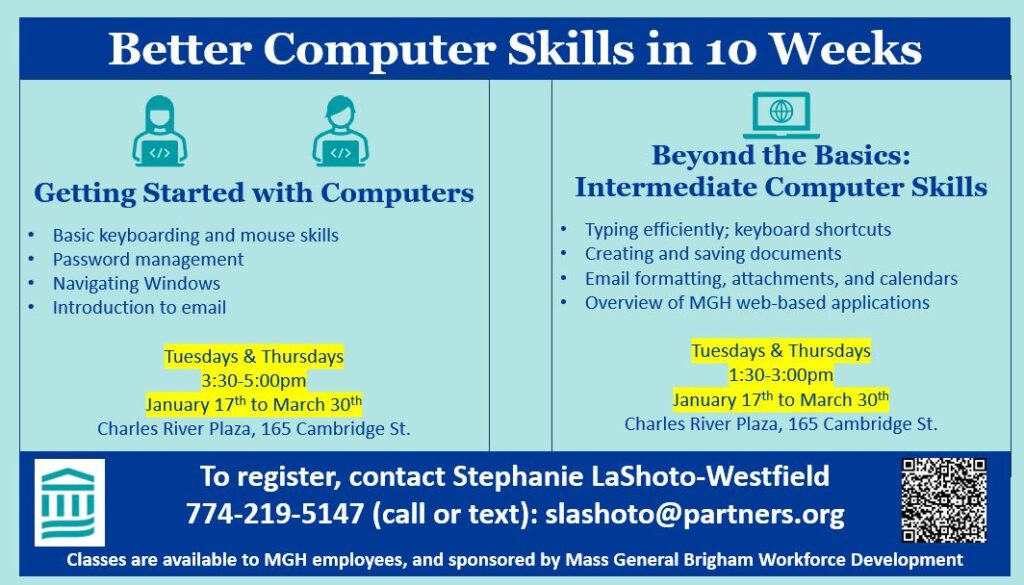 11/15/22 – Free 1 on 1 Financial Advising and Retirement Planning Available for MGH Staff Through Fidelit
Through MGH's partnership with Fidelity, you can meet with a consultant for a 1:1 consultation. Fidelity can help with basic budgeting to complex financial situations. Meet to discuss your goals to help you build a retirement and investment plan that can help you reach them. Schedule a consultation.
11/10/22 – One Last Flu Shot Clinic Added to MGH
New flu clinic just added: Nov. 14, 8 a.m.-4 p.m., MGH Occupational Health, 165 Cambridge Street, Suite 404, walk-ins welcome
If you got your flu shot outside of MGH, you can use this link to document:
Flu Vaccine Documentation Submission (partners.org)
11/3/22 – MGH's Equity and Community Health Dept is Looking for Your Feedback
10/31/22 – Previous Employee of the Month recipients:
Due to vacations/leaves, we have been delayed on presenting our September and October recipients, but wanted to share below our winners from this summer:
July: Egidio Pires – Blake 11
August: Mohammed Tissdoughass – Bigelow 14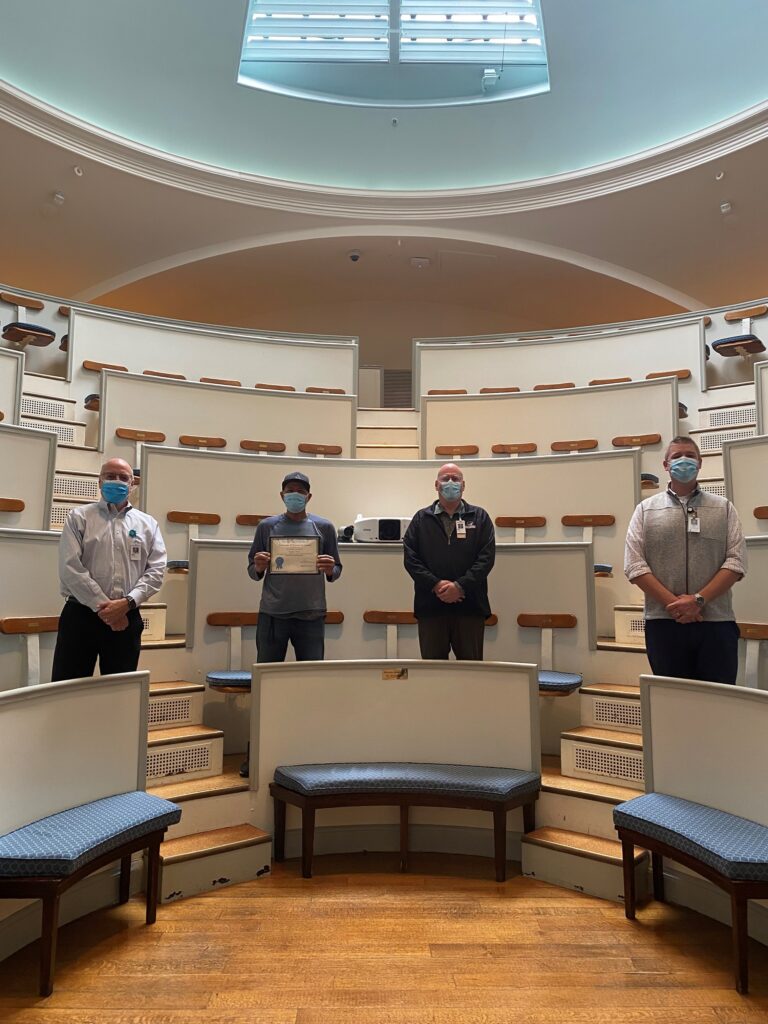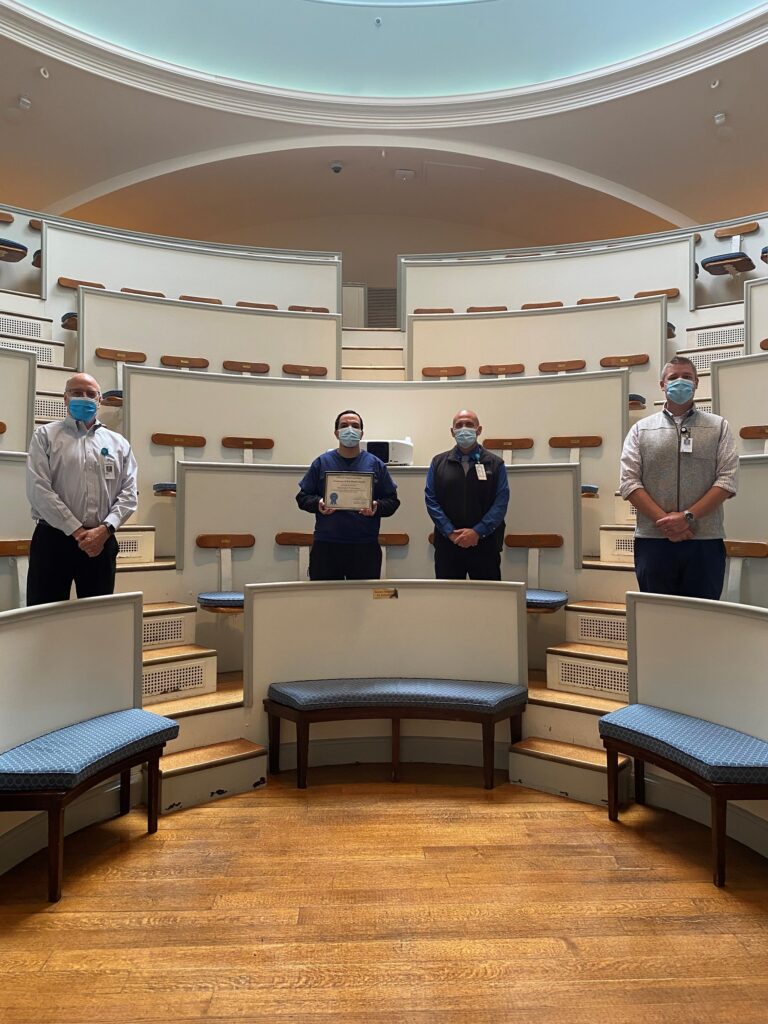 10/25/22 – Benefits Open Enrollment starts 10/31 and ends on 11/14
Reminder, if you opt out of MGH insurances, you must opt out each year. If you do not log in to opt out, you will be automatically enrolled in the MGB select plan.
Resources
All enrollment information will be available on the Ask My HR Open Enrollment page: askmyHRportal.com/OE2023. We also will host a series of webinars that will include a short presentation about considerations for 2023, followed by live Q&A. Register for one of the webinars listed below:
Monday, Oct. 31, noon
Thursday, Nov. 3, 7 a.m.
Tuesday, Nov. 8, 3:30 p.m.
Wednesday, Nov. 9, 2 p.m.
Friday, Nov. 11, noon
10/25/22 – MGB Offering Online College Preparation Program
10/21/22 – Sign on and Employee Referral Bonuses are still in effect
Good afternoon all, I just wanted to highlight that both the $750 sign on bonus for 20+ hour new hires and the $500 employee referral bonus for USAs are still in effect and available. If you know of anyone looking to become a USA, please share a referral with your manager so we can work with HR to start the interview process. If your referral gets hired and works here for at least 90 days, you are eligible for a $500 bonus per referral!
Please see below for our current list of vacant positions that we are actively hiring for: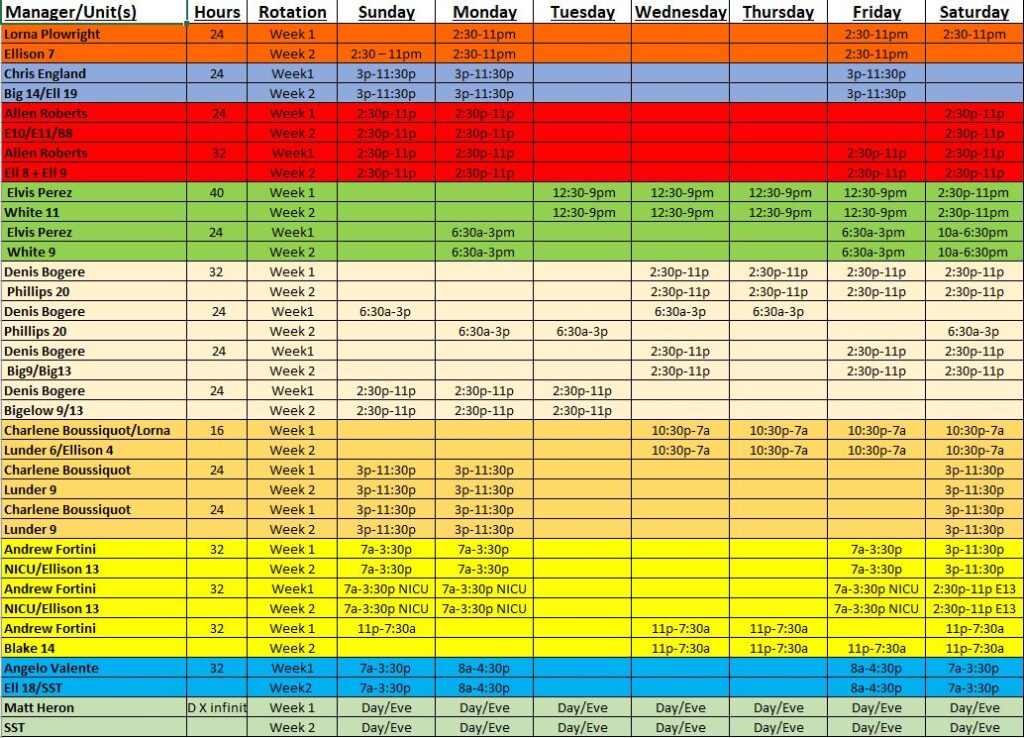 10/18/22 – Flu Shot Requirement
Good afternoon all, I just wanted to make sure everyone was aware that the deadline to receive your flu shot this year will be November 14th. You can get your flu shot from a flu shot champion on a unit, from CVS/Walgreens/Etc, or potentially from your healthcare provider. If you receive your flu shot anywhere other than onsite at MGH, you are going to need to go into PeopleSoft and attest that you received your shot.
Below is a list of the remaining flu shot clinics that MGH will be hosting this year:
Massachusetts General Hospital
Nov. 1, 7-11 a.m., Thier Conference Room
Nov. 2, 7-11 a.m., Thier Conference Room
Massachusetts General Hospital Offsite Clinics
Oct. 18, 8 a.m.-1 p.m., 125 Nashua Street
Oct. 19, 10:30 a.m.-1 p.m., Mass Eye and Ear Quincy
Oct. 20, 1-4 p.m., MGH Danvers
Any questions or concerns, please go to this link for more details: Flu vaccination program, Town Hall with Anne Klibanski, MD, Share a memory, National Preparedness Month, Suicide prevention training, BC football tickets – The Pulse – Mass General Brigham
10/5/22 – The Peter Slavin Fund for USA Assistance:
Good afternoon all, we are excited to announce a new fund available to the Unit Service Associate team donated in the name of Dr. Peter Slavin. The Slavin Fund aims to help employees and community members overcome barriers to health and well-being by providing financial support to individuals who have emergency needs. In PCS, there is a committee that will be reviewing all submissions to this fund. Unit Service Associate Staff can submit a request to their manager for grants of up to $500 utilizing the form attached below. The funds from this donation can be allocated for the following criteria: Childcare emergencies, School Supplies, Care of an Elderly Parent, Housing Emergencies, Funeral Expenses, Medical Emergencies
Unit Service Associates can submit one request for the year for any individual category listed above. Please be sure to attach a copy of a receipt or documentation (must be dated after 9/30/22) of the hardship when you fill out and drop off the submission form. The committee will meet monthly to review and approve submission forms in the order in which they were received. Funds are limited and will be divided up quarterly, so there is no guarantee that all submissions will be funded.
Uses of these funds are to assist staff with unexpected life costs, not for normal bills/utilities/daycare costs/etc. All costs must be incurred by the staff member in order to be reimbursed. Examples of what these could be used for are below:
Childcare emergencies

Daycare closes and you need alternative arrangements

Person who watches your child no longer can and you must make new arrangements

Child now requires special needs care

School Supplies

School requires you to purchase laptop/tablet

Cost of books or software purchases by requirement of school

Cost to replace stolen items like a laptop or tablet

Care of an Elderly Parent

Adult day care facility costs

Housing Emergencies

Emergent housing costs due to:

Funeral Expenses

Funeral expenses for a family member paid by the employee

Medical Emergencies

Medical bills paid by staff member for their immediate family

RX costs for emergency care
9/22/22 – Citizenship Class Webinar on 9/28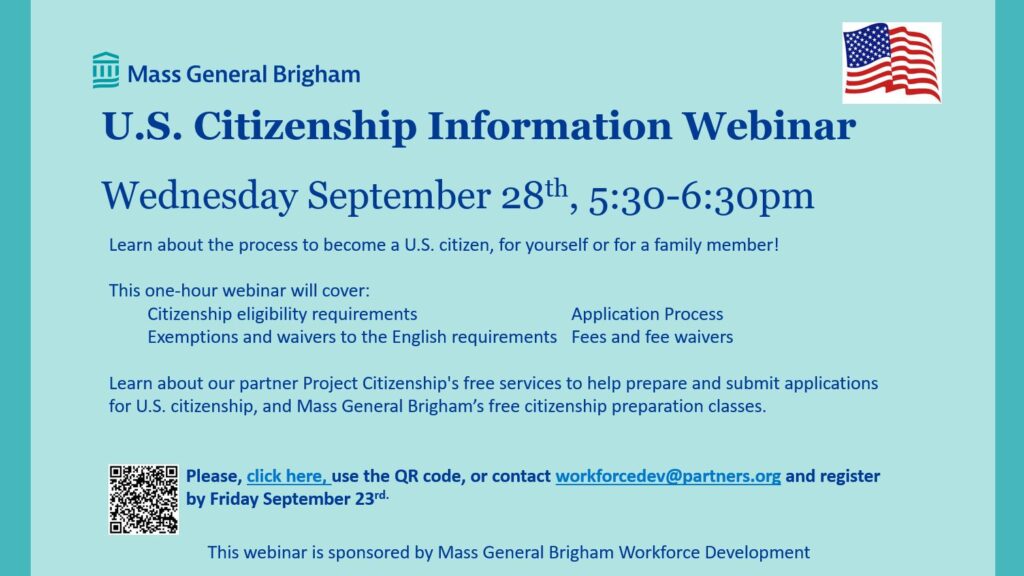 9/16/22 – MGH Well Being Fair on 9/19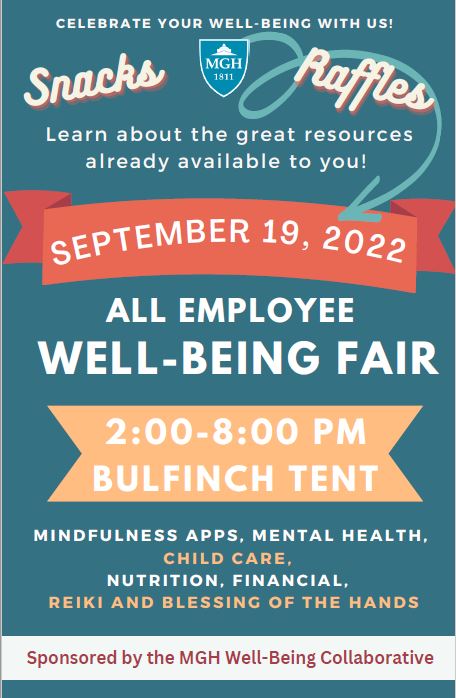 9/16/22 – MGH Celebrates Latino Heritage Month 9/15-10/15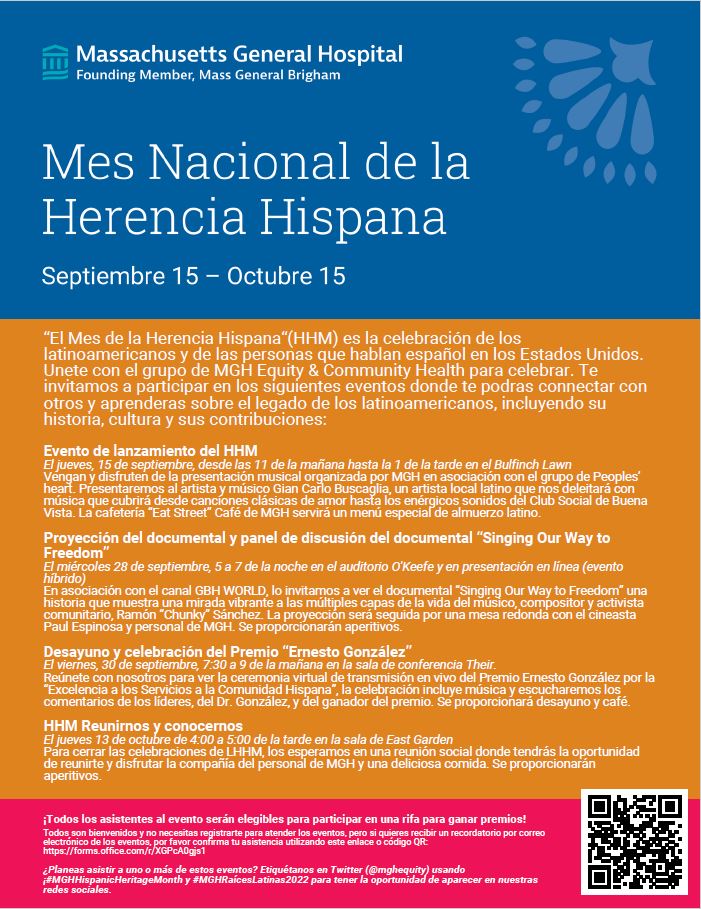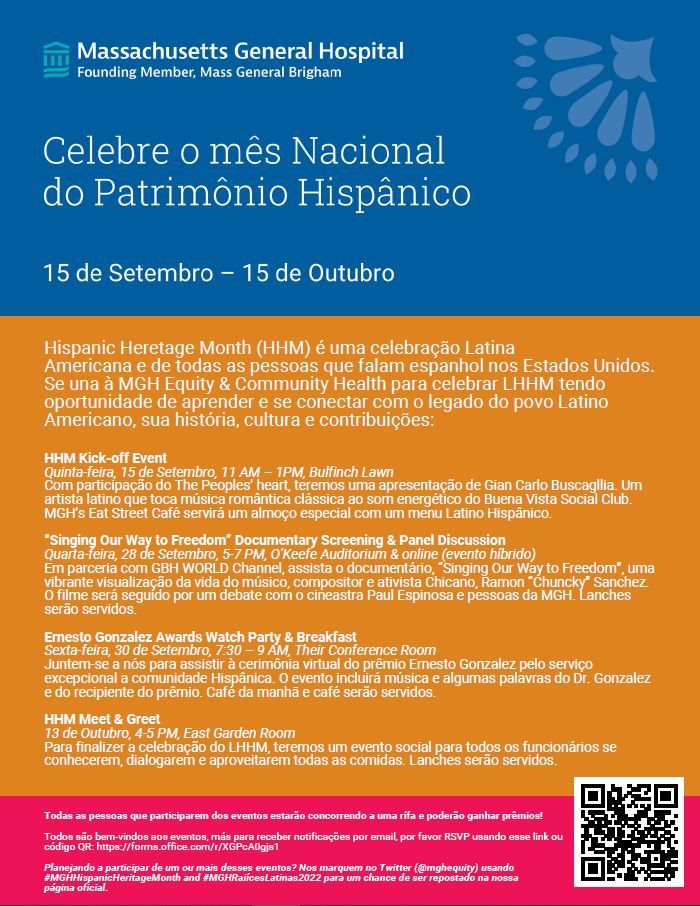 9/12/22 – USA Appreciation Week Recap
This year, we hosted USA appreciation week from 8/29 to 9/2 to celebrate and thank each and everyone of you for the amazing work that you do here at MGH. We had a great week of events, with a kickoff luncheon on Monday, breakfast on Weds, dinner on Thurs, and finished off with an ice cream party on Friday. Thank you all who came and celebrated, for those who were not able to attend, We will be sure to get you this years Unit Service Associate Appreciation Week gift out to you soon!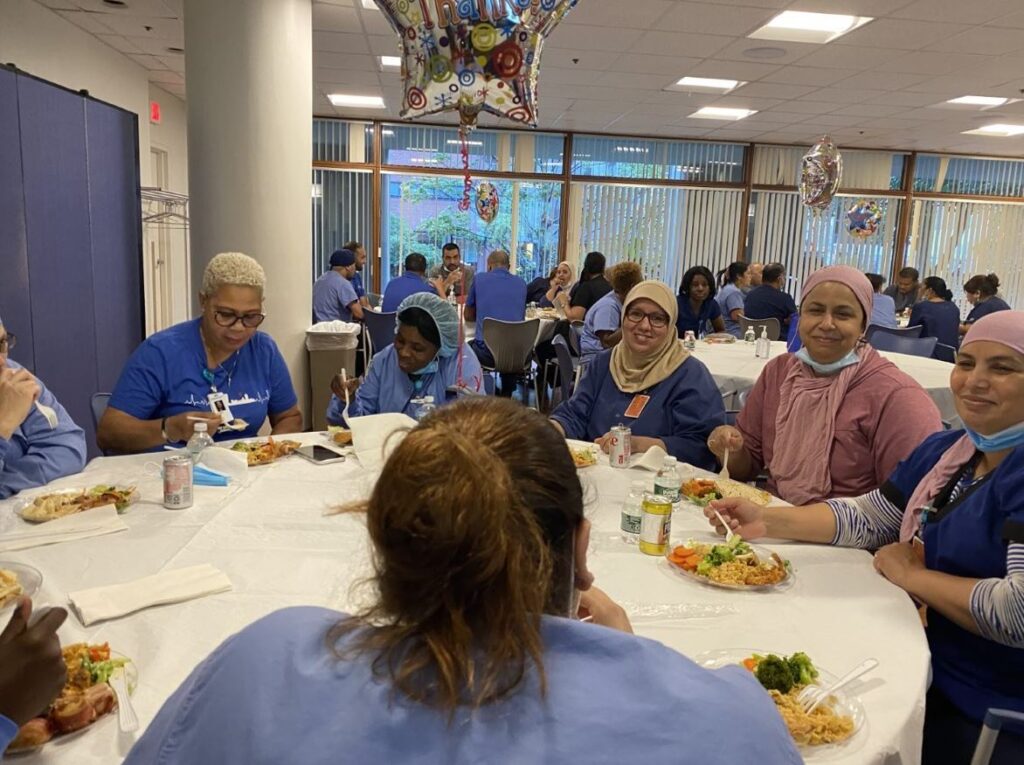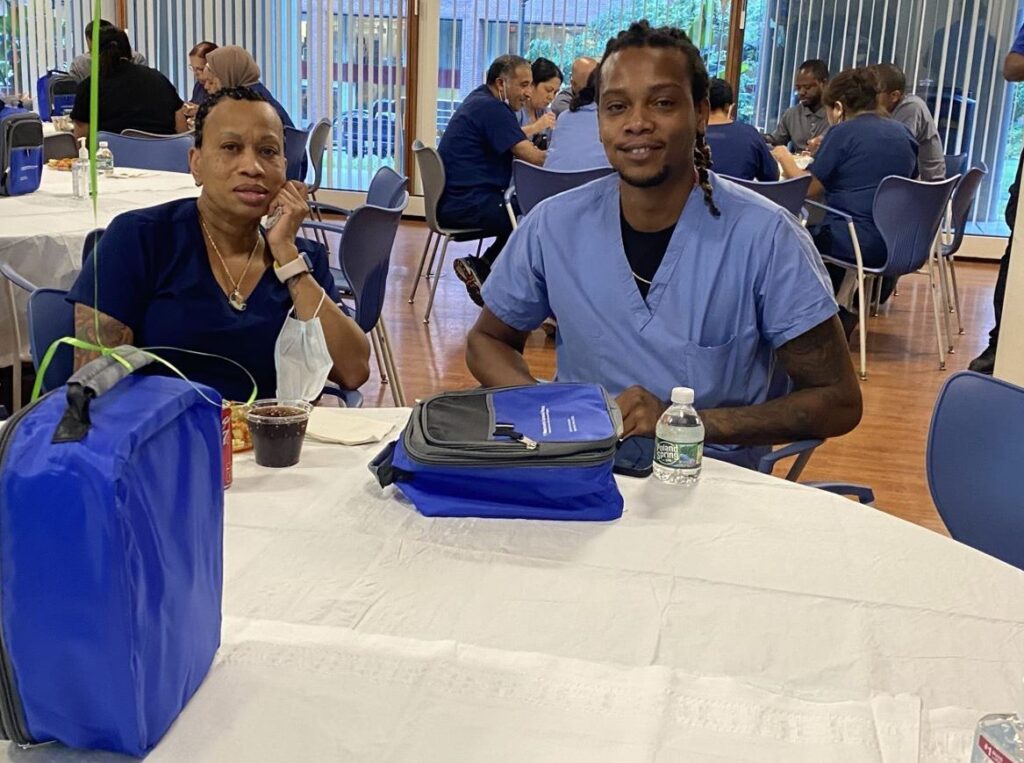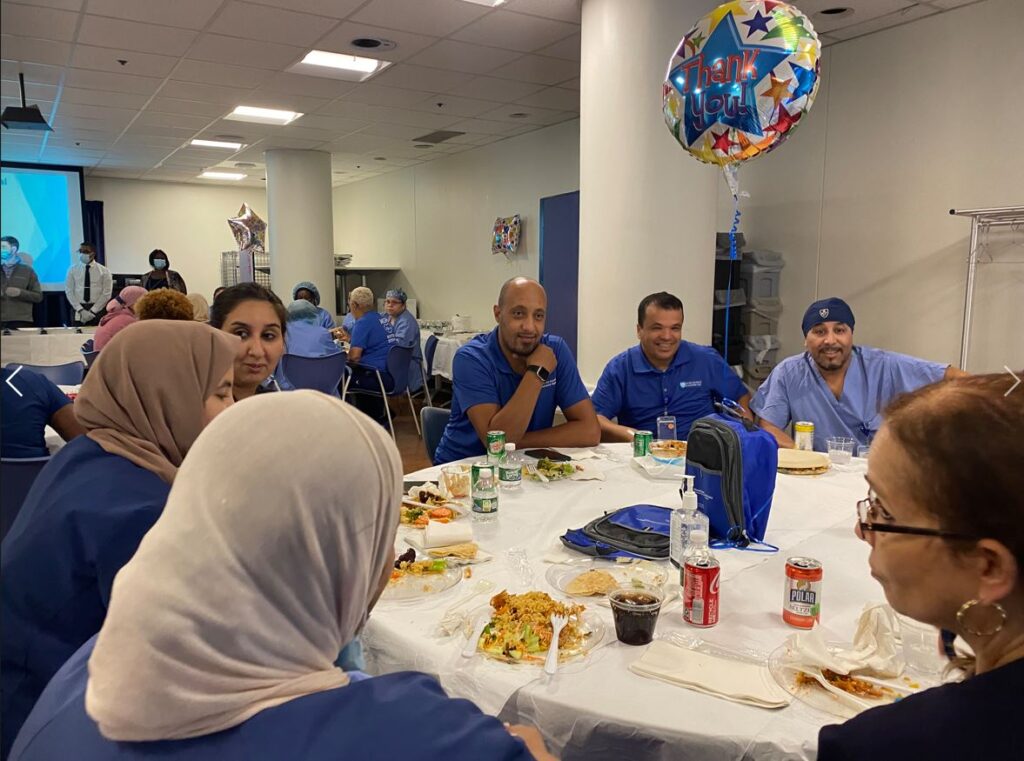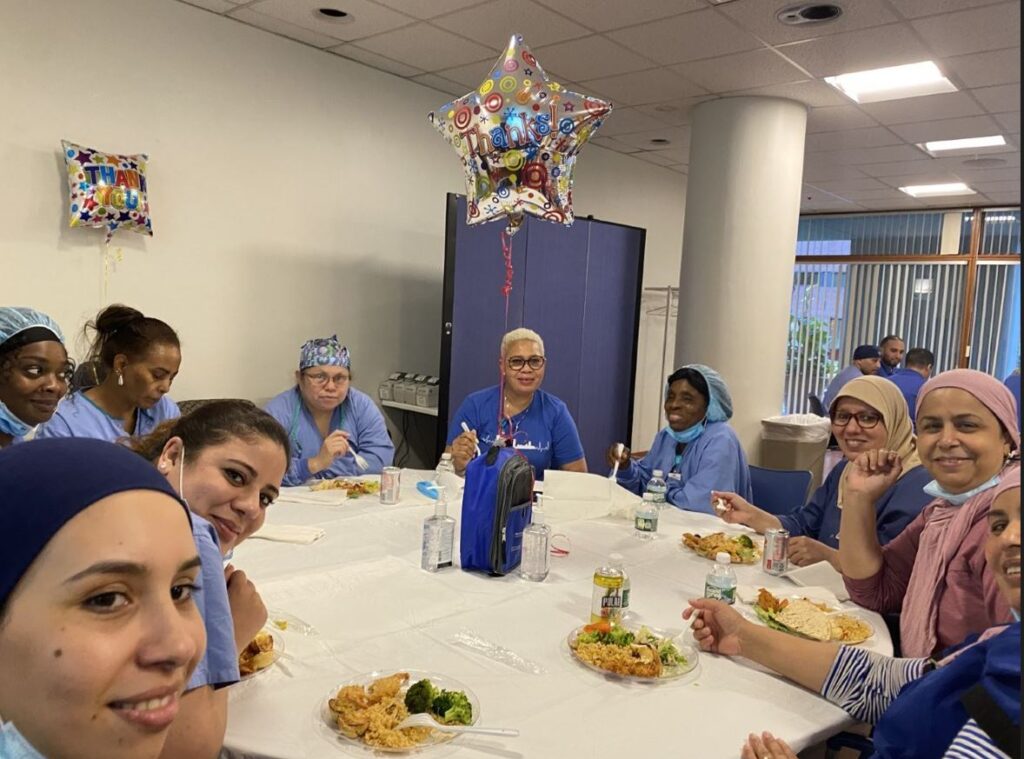 8/17/22 – JVS Free Class Offerings for the Fall: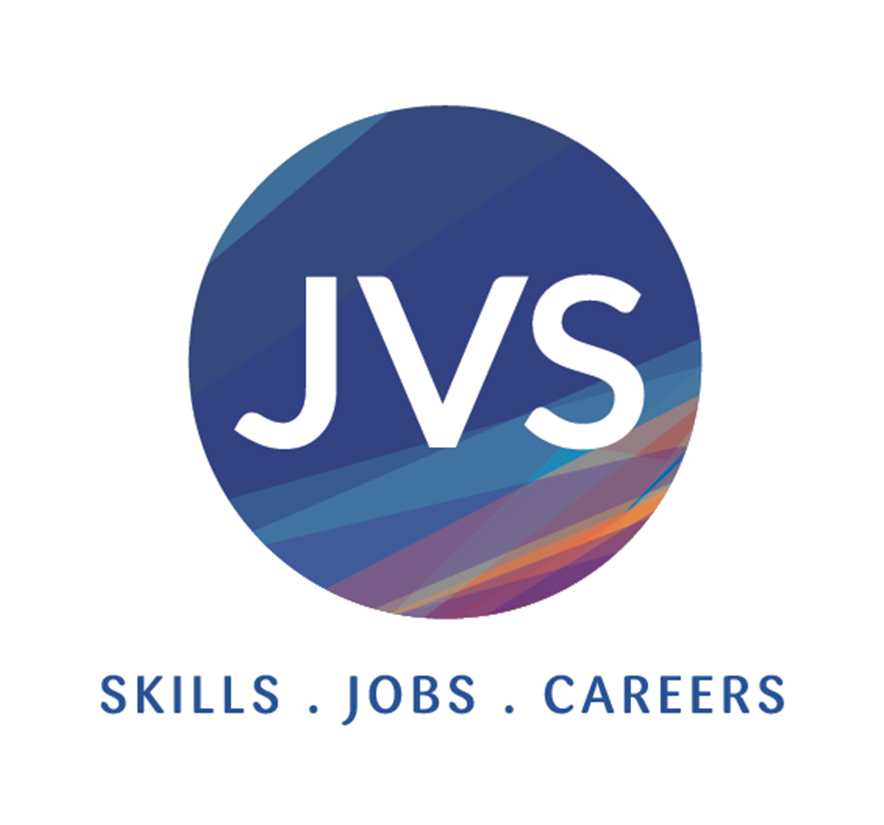 8/16/22 – Orange Line Shutdown Parking Option: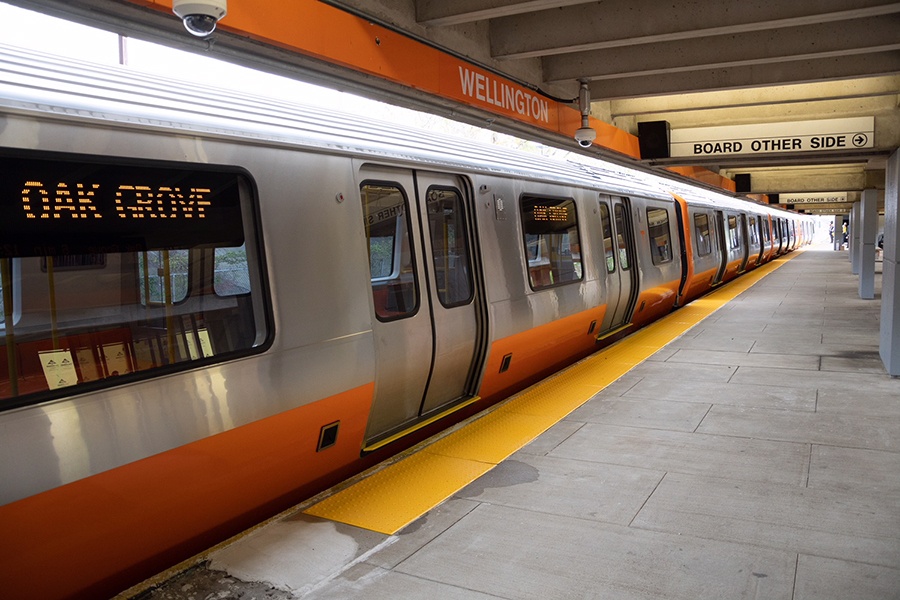 8/10/22 – A Message from MGH Equity and Public Affairs for Hispanic Heritage Month
In recognition of Latino/Hispanic Heritage Month (September 15 – October 15), the Equity and Community Health Inclusion Campaign and MGH Public Affairs are organizing a poster and social media campaign.
We are seeking Latine/Hispanic participants that will respond to a set of questions, linked here. The questions and instructions have been translated into Spanish and Portuguese to increase accessibility and inclusivity. Participants will be asked to submit a headshot photo with their responses by Friday, August 12th. Their photos and responses will be designed into posters that will be hung around MGH and shared on social media.
We would like you to connect with your team and staff to identify individuals who would be interested in participating in the campaign. If those individuals have questions or would like to speak to someone in person, they can connect with our colleagues for language-specific support:
7/20/22 – USA Appreciation Week coming in August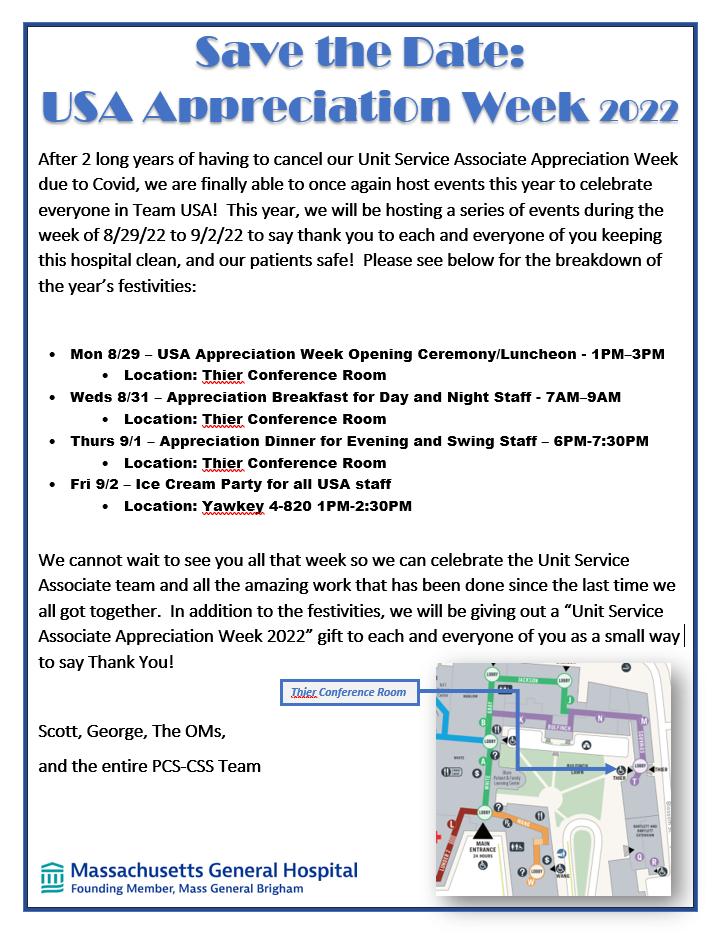 6/23/22 – Congratulations to our June USA Employee of the Month!
Chimene Bernadeau – Phillips House 22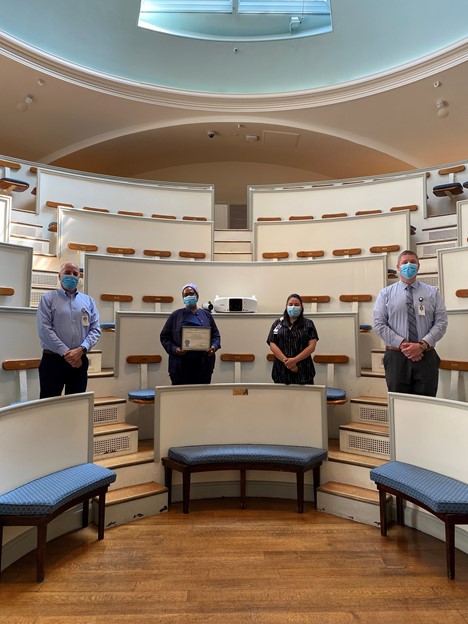 6/16/22 – Operations Support Staff Appreciation Day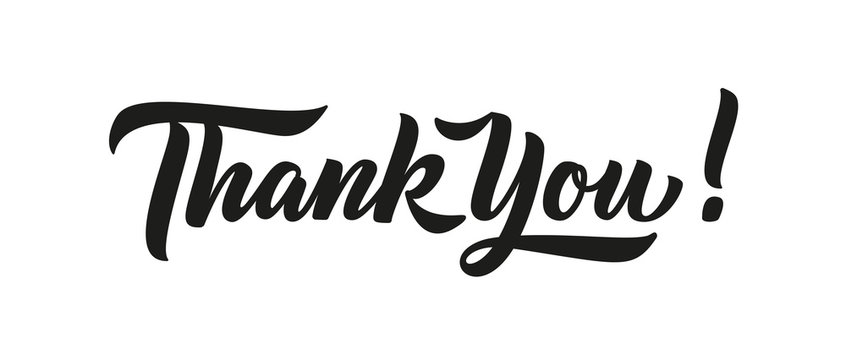 Today was MGH's Operations Support Staff Appreciation day, where MGH celebrated all members of the support departments around the hospital. This years events were very limited, with virtual events happening sporadically. I wanted to take this time to not only say THANK YOU for everything that each of you do every day, but also to highlight that this is MGH's day to recognize the staff. Departmentally, we in Clinical Support Services have every intention of bringing back Unit Service Associate Appreciation Week this year as we last did in 2019. We have begun planning for the events and hope to have an exciting week in mid-September this year to celebrate everyone in the Unit Service Associate role. More to come!!!
-Scott Parsons
6/15/22 – Covid Booster Shot Deadline Approaching on June 30th:
For those who need to receive a booster
During the month of June, Occupational Health is offering Pfizer COVID-19 vaccines at Massachusetts General Hospital, Brigham and Women's Hospital, Brigham and Women's Faulkner Hospital, Newton-Wellesley Hospital and Salem Hospital. Workforce members can make an appointment at their desired location here.
Those who need a Johnson & Johnson or Moderna booster are encouraged to visit a location in their local community. There are many sites, including CVS and Walgreens, offering free booster shots. Colleagues can visit vaccines.gov, mass.gov or vaccines.nh.gov to find a convenient location or text their ZIP code to 438829 or call 1-800-232-0233.
For those who need to document a booster
Once an individual has received their booster shot, they must ensure the vaccination is documented appropriately to be considered in compliance with our policy.
Record of COVID-19 booster shots received at a Mass General Brigham location will automatically be shared with Occupational Health System Services if the individual previously provided consent to share their COVID-19 vaccination information with HR and Occupational Health.
If they have received a booster at a Mass General Brigham location and have not previously provided consent to share their vaccination information, they can do so now through PeopleSoft. Individuals also may submit their COVID-19 booster documentation directly to Occupational Health.
If the COVID-19 booster was received at a non-Mass General Brigham location (CVS, Walgreens, etc.), the individual must submit booster documentation directly to Occupational Health for entry into their Occupational Health record. Booster documentation must include name and date of birth.
Timeline for those who remain non-compliant
The corrective action timeline for those who remain non-compliant with the COVID-19 booster vaccine policy is below:
Wednesday, July 13: All noncompliant employees and POIs will be put on unpaid administrative leave.
Tuesday, July 26: Termination letters will be sent by mail to non-compliant workforce members.

Thursday, July 28: Effective date for termination of employees who remain non-compliant. POIs who remain non-compliant will lose their status as a POI.
6/14/22 – New Female USA Scrub Top Option – Fitting Events Coming Up this Month
For many years now I know our scrub tops have been a source of contention with our female USA staff due to it's "Unisex" fit. Well we finally got the great news that there is now a female-specific scrub top option that we can order. We will be hosting 3 fitting events later this month for staff to come try on the new scrub tops and order. You do not have to change to this new option, if you like your current scrub shirt or polo shirt, you are more than happy to keep wearing those.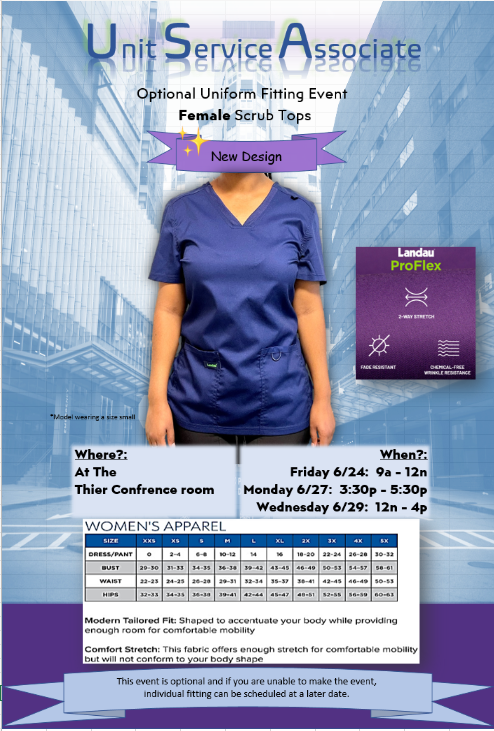 6/8/22 – Scott Parsons to begin hosting "Office Hours" around the units, info below: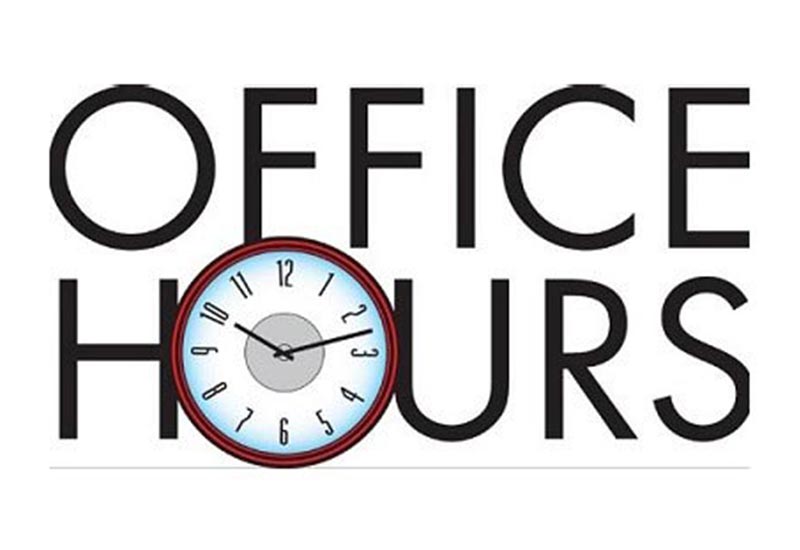 Starting today, 6/8, I will begin hosting what I am calling "Office Hours" in various locations across the units. The idea for these is to allow time for USAs to come see me and ask me any questions they may have, without the need to make any appointment and come to my office. I will be stationing myself in a conference room or other location near the units and welcome anyone from those specific units to come talk to me if they would like. There is no agenda like the forum, these are simply just an opportunity to come ask me questions if you have anything you want to discuss. The current schedule is as follows (specific locations not determined yet)
Office Hours:
6/8/22 – Allen Roberts and Elvis Perez' staff
6/17/22 – Denis Bogere and Lorna Kennedy-Plowright's staff
6/22/22 – Gabriela Montecinos and Matt Heron's staff
6/29/22 – Charlene Boussiquot and Chris England's staff
7/6/22 – Angelo Valente and Andrew Fortini's staff
5/26/22 – Reminder: Ear Buds/Headphones are prohibited while on duty as a USA: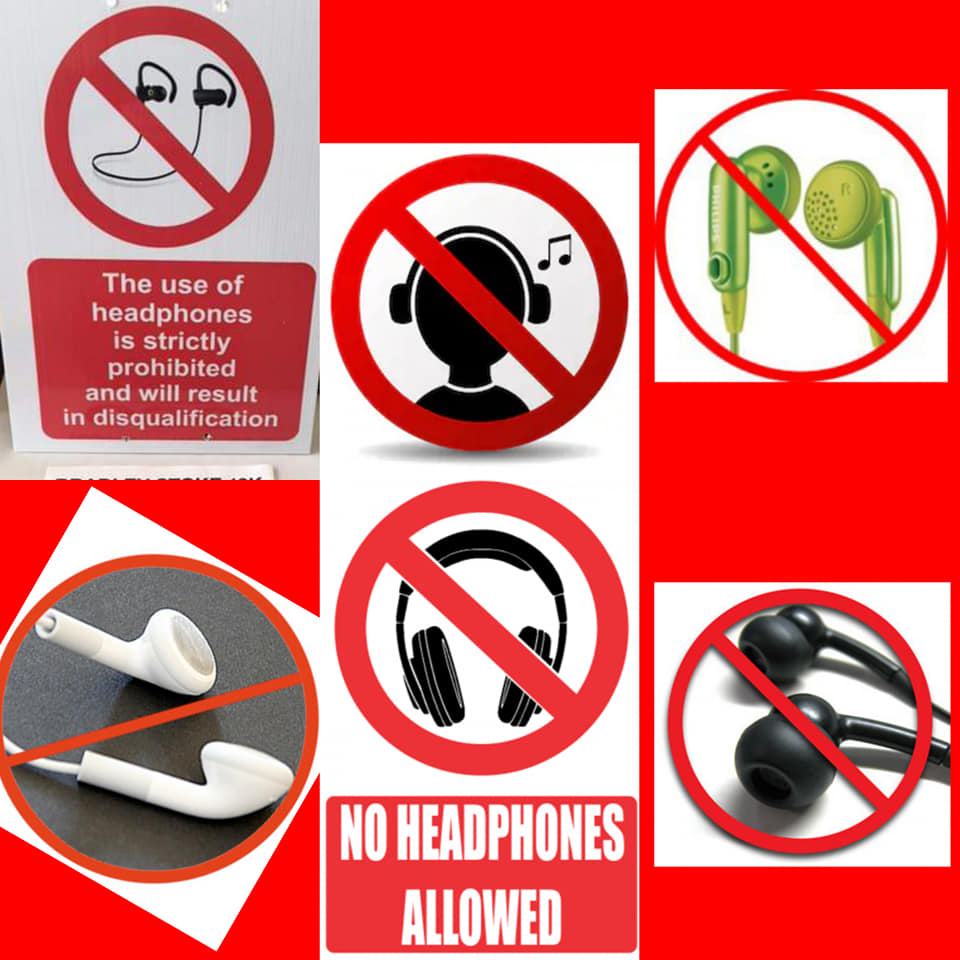 Because USAs must be able to quickly respond and be alert on the job, the use of headphones and earbuds are strictly prohibited while working. Headphones make a person less approachable and less alert in the event of an audible emergency, and therefore should never be used while working on an inpatient unit.
5/26/22 – MGH Need To Know – MonkeyPox
5/24/22 – USA Employee of the Month Winners:
April: Pedro Villafane – Ellison 19
May: Mohammed Alzubaer – Lunder 9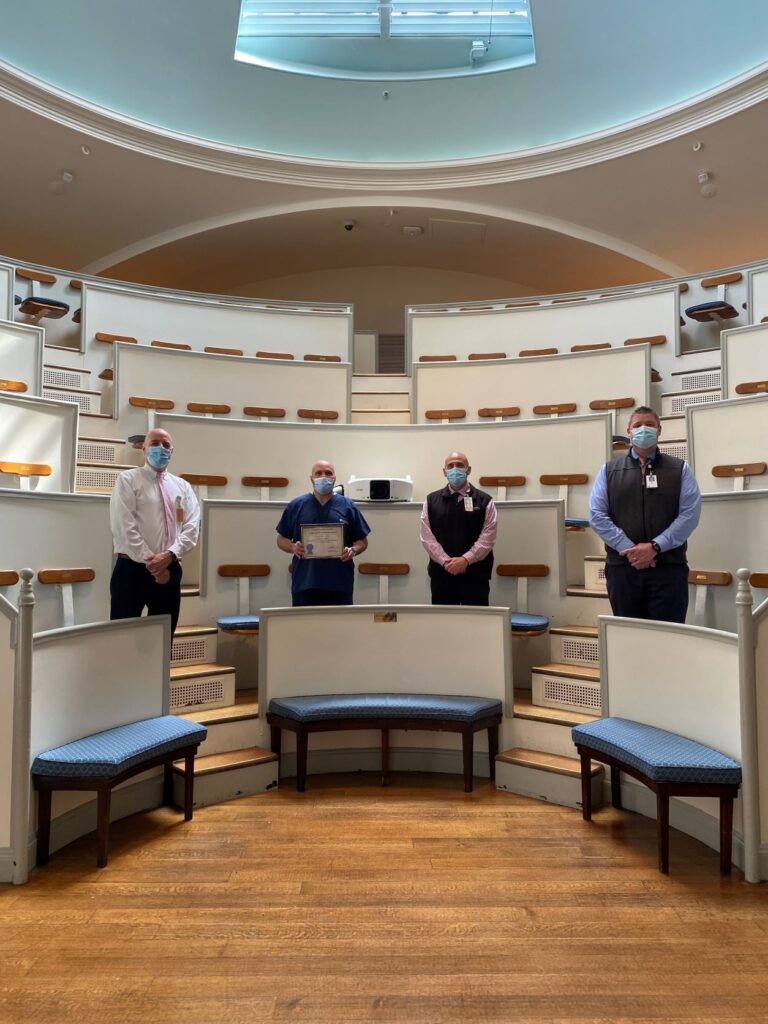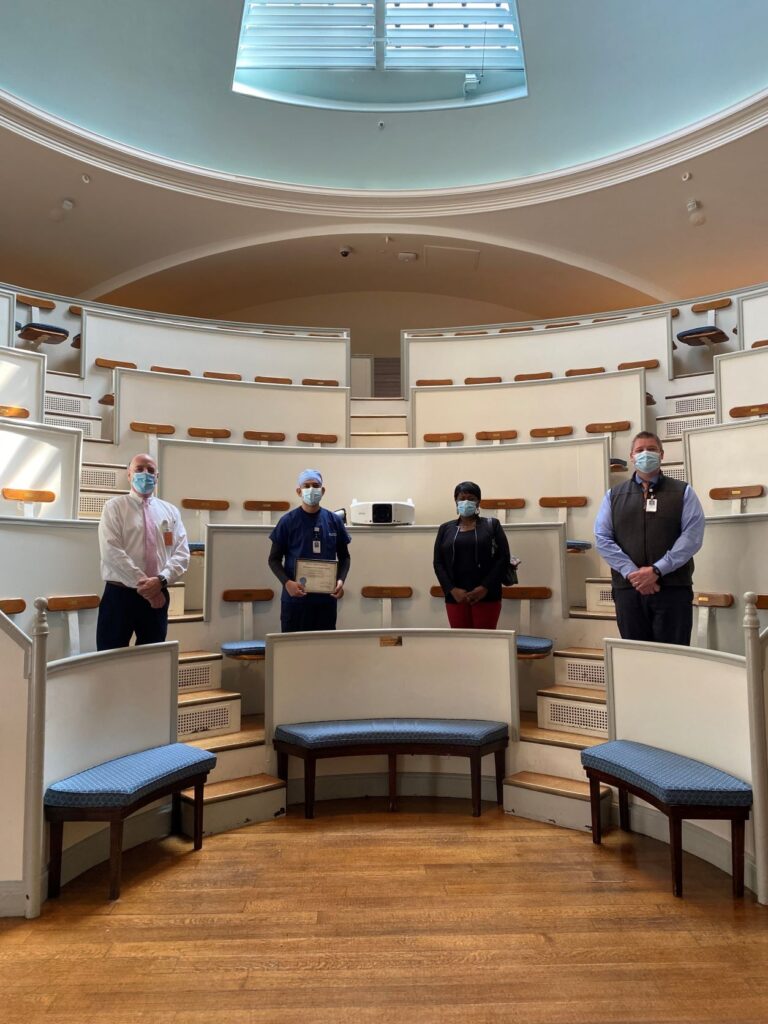 Perfect Attendance Raffle Winners
At our most recent forums, we picked our most recent winners for the perfect attendance raffle. Renel Alcindor from PH21 was in attendance when his name was called (no picture unfortunately), and he chose a 10″ Amazon Fire Tablet as his prize. The second winner was Mavis Pellegrini from White 9, who we met with on her unit, and she chose the 4 course Dinner for 2 gift card for Davio's Steakhouse. Congrats to both!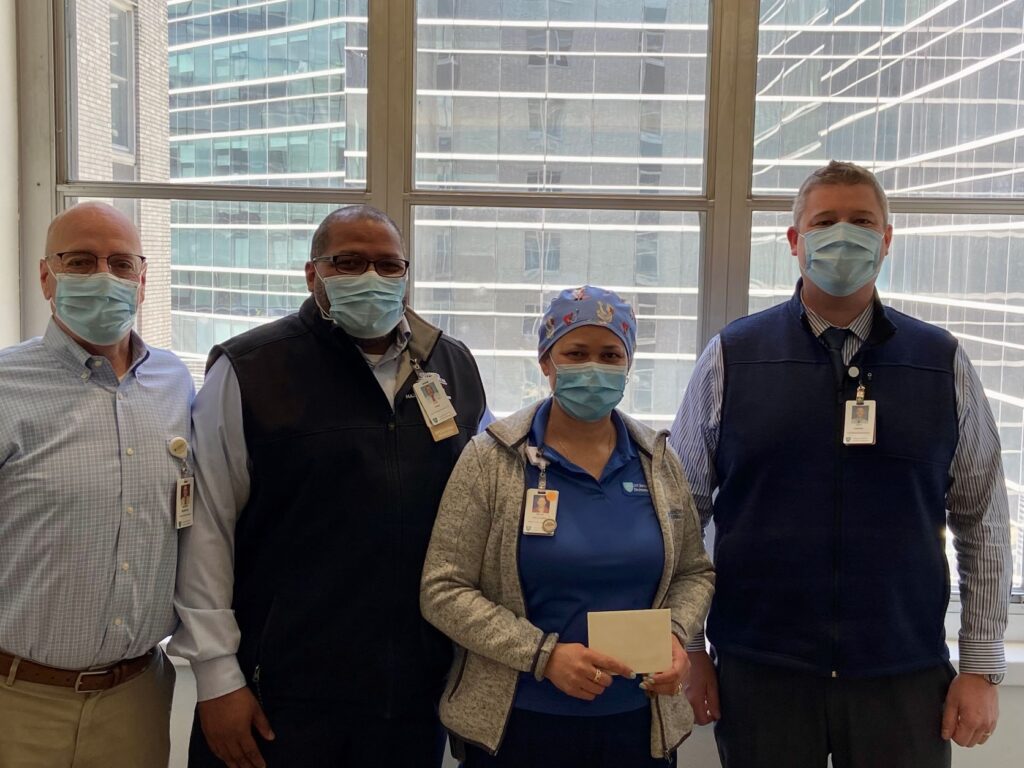 5/16/22 – Support Services Grant Available for furthering education
In addition to the Tuition reimbursement program, there is a Support Services Grant that USAs can apply for it further their skills or education. Details below:
2022 Support Services Employee Grant Program:
The 2022 Support Service Employee Grant (SSEG) program awards up to $1,500 to eligible employees seeking to enhance their skills or advance their education.
The deadline for applications is Wednesday, June 1.
The program is open to benefits-eligible, non-exempt MGH employees working in support roles (clinical, administrative, technical or general service) with:
an effective hire date of September 30, 2020 or earlier at the MGH or other Mass General Brigham affiliate AND
at least two years of continuous employment at the MGH or Mass General Brigham affiliate
Employees with a bachelor or advanced degree are not eligible. A list of the eligibility criteria and the application can be found on the SSEG page on Ask My HR.
Awards can be used for any costs associated with the pursuit of education or training including books, prerequisites, ESOL, certificate and undergraduate degree programs.
The SSEG program aligns with the system-wide United Against Racism strategy to achieve equity and is part of Mass General's ongoing effort to recruit and retain a highly-skilled diverse workforce.
This program is sponsored by MGH Human Resources.
Jovita Thomas-Williams
Senior Vice President of Human Resources
5/3/22 – Stephanie LaShoto and Workforce Development at Info Table outside Eat Street tomorrow:
Join the Workforce Development Team for Workforce Wednesday
Employees are invited to visit the Workforce Development information table Wednesday, May 4 from 11 am to 7 pm outside of Eat Street Café to talk to with academic and career coaches to learn more about Workforce Development opportunities, including:
How to use tuition reimbursement and financial aid, including FAFSA.
Learn about college and university discounts and grant opportunities for MGH employees.
Explore Workforce Development programs offered to MGH employees.
Visit Apollo, the MGH intranet, for more information or click here to make an individual appointment to connect with a coach.
____________________________________
Stephanie LaShoto-Westfield
she, her, hers
Workforce Development Specialist, Human Resources
Mass General Brigham
399 Revolution Drive Somerville MA 02145
T: 774-219-5147
Massgeneralbrigham.org
Click here to schedule a meeting with me: https://calendly.com/slashoto/15min
5/2/22 – Ricardo Diaz Award Nomination Portal open
This would be a great opportunity to nominate one of your USA coworkers who you feel is very deserving of this prestigious award:
Ricardo Diaz Memorial Award Nominations Now Open
The Ricardo Diaz Memorial Award was established in memory and recognition of Ricardo Diaz, who worked in Environmental Services and Buildings and Grounds at the MGH between 1991 and 2003. All MGH employees who have worked at the hospital for at least two years and are currently in a general support service/skilled trade job are eligible for the award. Employees in the following departments who are not in a supervisory, clerical/secretarial, professional or technologist role are eligible for this award
Buildings & Grounds
Environmental Services
Materials Management
Nutrition and Food Services
Patient Transport
Police & Security
Unit Service Associates (USAs)
Learn more and submit a nomination by Tuesday, May 17 using the Ricardo Diaz Award online nomination form. Email MGHHREvents@partners.org for more information or if a paper nomination form in required.
4/21/22 – MGH Chemo Waste Handling Policy:
With Chemo waste handling being a topic of conversation at our recent forums, I thought I would provide everyone with a copy of the MGH policy on safe handling:
4/21/22 – Upcoming Computer and Citizenship classes being offered free of charge to MGH employees:
4/13/22 – Exciting News: New USA Employee Referral Bonus Program offered to Team USA-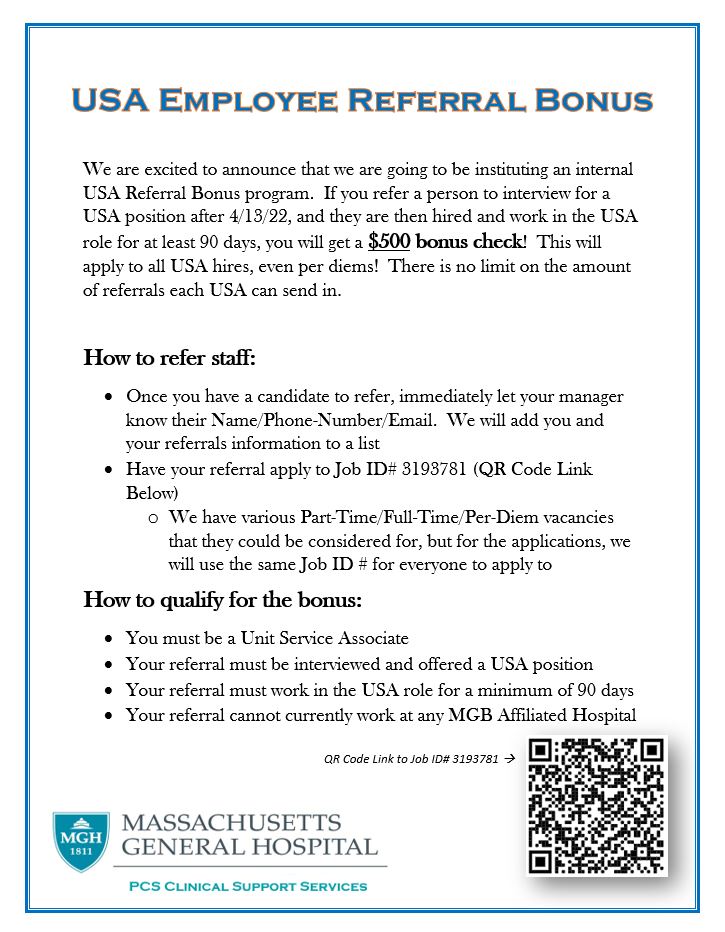 4/12/22 – Alternative to Sani-Wipes may appear on your unit. These "Sidekicks" were leftover from our Pandemic alternatives and are being used now before they expire.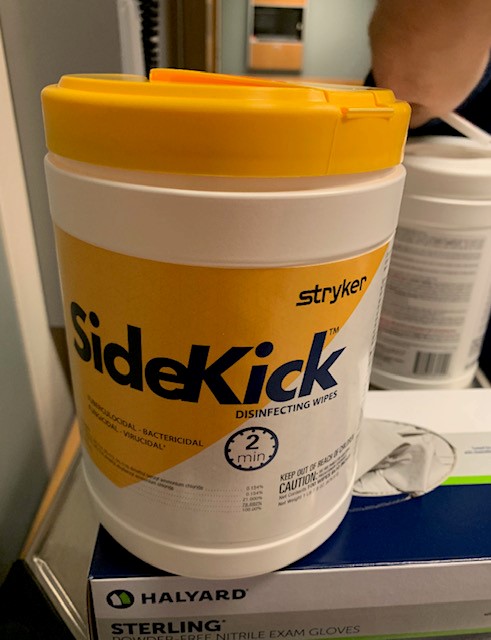 3/31/22 – MGH Primary Care Physician Program
If you are interested in finding a Primary Care Physician here at MGH, especially one who may speak your native language, here is information on a new program that the Center for Diversity and Inclusion has started:
3/29/22 – USA to PCA Free Training Program Re-Opening, Info Sessions coming:
If you are interested in becoming a PCA, MGH in partnership with JVS has a free program available to train and certify staff to becoming PCAs, with a guaranteed position here at MGH when training is complete. Flyer attached below:
3/24/22 – New USA Vacation Guidelines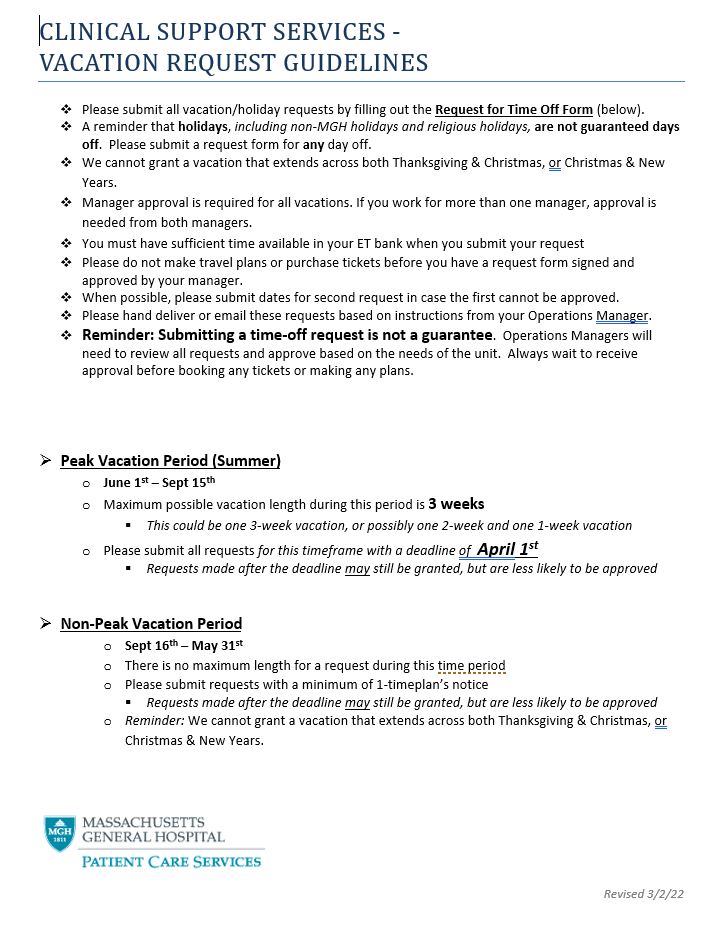 3/24/22 -Free Services Available to USAs
•English for Speakers of Other Languages, Computer, and Citizenship classes offered through JVS and MGH •Stephanie LaShoto-Westfield: slashoto@partners.org : 774-219-5147 (call or text) •
•Financial Advising and Retirement Planning through Fidelity •Joe Casey: Email: Joe.Casey@FMR.com , Phone: 617-543-4636 •
•MGH PCP Program • If you are interested in getting a Primary Care Physician through MGH that speaks your native language, you can reach out to Scott Parsons to get you in touch with the program leaders
•Tuition Reimbursement •Available through the benefits department •
•Free Tax Prep •Stephanie LaShoto-Westfield: slashoto@partners.org : 774-219-5147 (call or text)
Do I need to wait 1 hour to clean a covid room?
Upcoming USA Forums